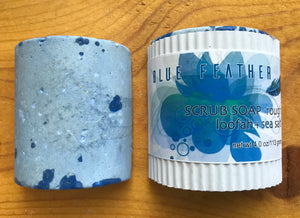 New Shape and New Label — this is now part of our salt soap line. 
SCENT: PEPPERMINT & TEA TREE
essential oil  blend
Color: blue
Blue Feather's Twinkle Toes Loofah Scrub Soap is a wonderful body soap that excels at scrubbing away rough dry skin from knees, elbows and feet! This invigorating and rejuvenating soap is packed full of exotic premium goodies. Dead Sea Salt and Loofah are natural exfoliants, while Peppermint & Tea Tree oils soothe and disinfect. Shea & Cocoa butters and Goat's milkmake this one of our richest soaps. For a real treat, follow with our minty Hand and Foot Silk or our Crack Attack balm. 
ingredients: coconut oil, goat's milk, rice bran oil, palm oil, sodium hydroxide*, cocoa butter, shea butter, castor oil, dead sea salt, peppermint essential oil, tea tree essential oil, sodium lactate, ground loofah, vitamin E, ultramarine oxide, tussah silk. Approx. 4 oz./ 113 grams
*neutralized by saponification.