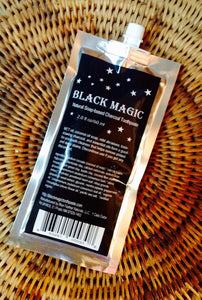 Natural coconut oil soap helps clean and provide a little foaming.  Medium chain tryglycerides, aka fractionated coconut oil, acts as an oil puller. Our soap is made from organic coconut oil, while toxin-drawing charcoal, hydroxyapatite (the building block of teeth), calcium carbonate and baking soda act as mild polishers.  Our charcoal comes from coconut husk, which is the best charcoal for removing stains and general cleaning, plus it is a sustainable ingredient!  And we flavored it lightly with organic peppermint, cinnamon and clove essential oils.
Instead of a plastic tube, we use a mylar squeeze pouch.  These containers are made in the USA and they use substantially less materials than any comparable container, making them more environmentally friendly! They are food grade and puncture resistant.
Use a small pea-sized portion on a damp toothbrush.  It takes about a week to get used to, but you will notice whiter teeth almost immediately… yes, its weird, but it's totally natural! Discontinue use if you get any discomfort.
Our testers have reported cleaner feeling teeth and a reduction in surface stains.  We have also had reports that our clients' teeth cleaning appointments are substantially shortened and that they look forward to brushing their teeth!
Please consider taking a 'before' picture.  We will be launching a dedicated website for Black Magic and we would like to develop a 'wall of smiles' and prizes every 3 months of a year's supply of toothpaste!
The ingredient list has been updated to remove all silica, one of the most common ingredients in all toothpastes.  We removed it because it is harder than tooth enamel, so it can actual damage teeth! We've replaced the sweetener with xylitol, which helps eliminate bacteria in the mouth. We've added nano hydroxyapatite, the building block of teeth.  Under the right conditions (a higher pH, as provided by our natural coconut oil soap), HA helps to remineralize teeth and reduce sensitivity. Finally, we've added propolis, myrrh, copal and spilanthes, for their ability to help reduce gum and mouth problems.
Black Magic Charcoal Toothpaste contains: potassium cocoate (coconut oil soap),* caprylic/capric triglycerides (MCT oil), calcium carbonate, methyl sulfonyl methane (MSM), sodium bicarbonate (baking soda), nano hydroxyapatite, activated coconut fiber charcoal, calcium lactate, xylitol (sugar alcohol sweetener), himalyan pink salt, propolis extract, ground cinnamon bark,* powdered neem leaf, mentha piperita (peppermint) oil,* cinnamomum zeylanicum (cinnamon) leaf oil,* eugenia caryophyllus (clove) flower oil,* myrrh gum tincture,* copal oro extract,* spilanthes acmella extract.    *organic/wildcrafted
.  2 fl oz/ 60 ml  Tube lasts one person for approximately three to four months.