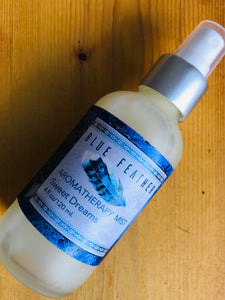 Sweet Dreams  blend of essential oils is intended to help naturally induce sleep with a calming blend of lavender, marjoram, tangerine, clary sage and vanilla essential oils. The base is a natural and non-alcoholic and is safe to spray on the body, in the air or on fabrics such as sheets. You can even use this as your personal fragrance. Some customers report that spraying it on the bottom of the feet adds to effectiveness.
We've added a natural emulsifier to help keep everything mixed, however we suggest that you shake before use.
Avoid if pregnant
Sweet Dreams Fragrance Mist is a blend of water, essential oils, a natural emulsifier and a mild preservative. Contains water, caprylic/capric glycoside, lavender oil, marjoram oil, tangerine oil, clary sage oil, vanilla oil,  phenoxyethanol, caprylyl glycol, sorbic acid.  4 oz/113 gram. in a frosted glass bottle.