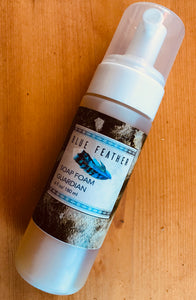 Our Liquid Soap is made with the 'hot process' technique, using fabulous emolient oils including avocado oil and shea butter. It is convenient at a sink, for hand washing, but is gentle enough for face washing too. Unlike most commercial liquid soaps, this contains only natural, simple ingredients that you can feel good about putting on you body!
This is packaged in a special bottle that forces air into the soap, dispensing the soap as a foam. This uses less soap and is a convenient feature at a sink. Save the bottle and refill with our soap concentrate, diluted 1:1 with water.
Try our newest scent blend: Guardian.  This is our version of the legendary Four Thieves blend purported to have originated in the 15th Century and used to ward off disease.  It is a natural anti-bacterial blend with clove, lemon, cinnamon, eucalyptus and rosemary essential oils.
Contains: saponified coconut, sunflower seed, olive, avocado  and castor oils; saponified shea butter, fragrance and/or essential oil, glycerin, citric acid (pH buffer).   6 fl oz/180 ml