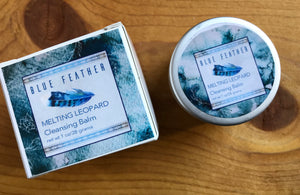 Try this multi-tasking face-care product.
MELT Cleansing Balm is a nourishing and gentle daily cleanser, a highly effective make- up remover and an overnight, leave on skin treatment. It is moisturizing, nourishing and non- comedogenic for all skin types, including sensitive, oily and inflamed skin. It feels like heaven going on, melts instantly, soothes the skin, and removes every trace of dirt and makeup. Even water-proof eyeliner and mascara. A little added water during the process, transforms the cleanser into a silky-soft, milky lotion that is easily removed, leaving skin pristine, smooth, and radiant. 95% naturally derived ingredients, preservative-free. 
How to use:
Begin with dry skin. Remove a pea-sized portion with a small spatula. Never put wet fingers into your jar. Spread and warm the balm evenly between your fingertips and then gently massage it over your entire face and neck in small circular motions; do this for one full minute getting into all of the nooks and crannies. This will ensure that the cleanser has fully softened and broken down the makeup and dirt on your skin. 
With your fingertips, apply water and keep massaging until the cleanser becomes white and milky. Keep massaging for another minute to thoroughly and completely emulsify; add more water as necessary to create a wet and slippery mixture on your face. Remove with a soft, warm, wet cloth and finish by rinsing with several handfuls of warm water. Gently pat your face dry with a soft towel. Celebrate your velvety skin! 
Awake to incredibly soft and hydrated skin by smoothing a very small amount of the balm onto moist skin as a night-time moisturizer. This will also work beautifully as a daytime moisturizer by applying a very small amount evenly to skin, followed up with a spritz of water or hydrosol, and massaging into the skin.
If you are prone to avoid facial products, this may be the single best product to use, as it cleans and moisturizes. 
ingredients: pumpkin seed oil, cetyl alcohol, raw organic coconut oil, castor oil, behemonium methosulfate, MCT oil, jojoba oil, rosehip seed oil, polysorbate 80, evening primrose oil, vitamin E, sea buckthorn berry oil, essential oils of grapefruit, basil, jamarosa & ylang ylang.
Packaged as 1.7 fl oz/ 50 ml