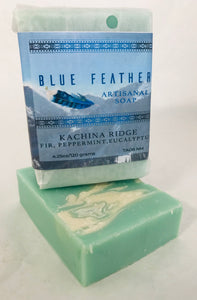 SCENT: FIR, EUCALYPTUS AND PEPPERMINT
essential oil  blend
Color: green with swirls
Feel the cool breath of the mountains with our special edition soap blending fir, peppermint and eucalyptus oils. Our rich oil blend will banish dry winter skin, as Shea butter, Olive Oil and Hemp seed soothe the skin and clean with a rich lather.
ingredients:  coconut oil, distilled water, virgin olive oil, shea butter, sodium hydroxide, palm oil, castor oil, hempseed oil & babassu oil; essential oils of fir, peppermint & eucalyptus, sodium lactate, oxides, tussah silk.  
ave wt 4.25 oz/120 grams.