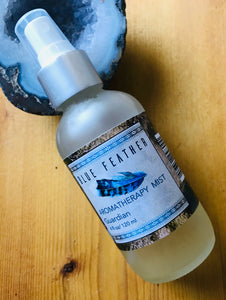 Forest Guardian  blend of essential oils is intended to help naturally banish germs and create a clean uplifting scent with a powerful blend of anti-bacterial essential oils, based on the popular 'Thieves' blend.  Folk Lore says that this blend was used by carpet-baggers back in the Middle Ages to help ward off the plague.  Since the FDA does not acknowledge the effectiveness of essential oils, we cannot make any claims as to what this product can do, but it does smell fresh and clean.
The base is a natural and non-alcoholic and is safe to spray on the body, in the air or on fabrics such as sheets. You can even use this as your personal fragrance.  We've added a natural emulsifier to help keep everything mixed, however we suggest that you shake before use.
Customers say that the scent is also uplifting and energizing.
Guardian Fragrance Mist is a blend of water, essential oils, a natural emulsifier and a mild preservative. Contains water, caprylic/capric glycoside, clove oil, lemon oil, cinnamon oil, eucalyptus oil, rosemary oil, phenoxyethanol, caprylyl glycol, sorbic acid.  4 oz/113 grams.