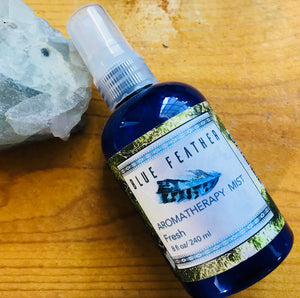 Fresh Aire blend of essential oils helps impart a clean fresh scent anywhere you spray it. A blend of citrus with tea tree, is clean, fresh and mildly anti-bacterial.  It makes a great room deodorizer.
The base is a natural and non-alcoholic and is safe to spray on the body, in the air or on fabrics such as sheets. You can even use this as your personal fragrance.  We've added a natural emulsifier to help keep everything mixed, however we suggest that you shake before use.
Fresh Fragrance Mist is a blend of water, essential oils, a natural emulsifier and a mild preservative. Contains water, caprylic/capric glycoside, orange oil, lemon oil, grapefruit oil, tea tree oil, phenoxyethanol, caprylyl glycol, sorbic acid.  4 oz/113 grams.