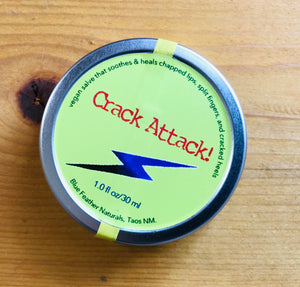 We've had fabulous response from ski workers and river runners here in Taos! These guys are outside all day long, so they know how painful it can get to have cracked finger tips and still have to remain outside. They love our Crack Attack! for speeding up healing.
But guess what?  We tried it on lips too, and it's amazing. If you are stuck outside in the wind and your lips are getting chapped, this is jus the thing!  If you use it regularly, you can avid chapping altogether!
It contains Acai Butter, Kokum Butter and Tamanu Oil that are all high in anti-oxidants to help heal and soothe dry, chapped skin. It's 99% natural and vegan!  Just what we love: one product with lots of uses!
We have new packaging: a screw-top metal tin that can be re-purposed or recycled and you can carry it in your pocket!
Contains: almond oil infused comfrey & marshmallow root; acai butter (shea butter, palm butter, jojoba seed oil & acai pulp powder), cocoa butter, kokum butter, sunflower seed wax, tapioca starch polymethylsilsesquioxane, tamanu oil, meadowfoam seed oil, vitamin E acetate, essential oils of carrot seed, clary sage, ylang ylang, geranium & lavender; rosemary oil extract.  Now in a metal tin 1.0 oz/28 grams