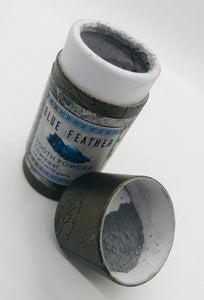 Our tooth powder has all the solid ingredients that are in our toothpaste, just no liquids.  That  makes it much lighter in weight and we can package it in these wonderful compostable containers!
We did substitute a mild foaming agent for our soap, so this has no soapy taste.
I usually get my toothbrush a little damp and then dip it in the container to pick up a little of the powder, and then I just brush away. 
ingredients: sodium cocoyl isethionate, dicalcium phosphate, nano hydroxyapatite,  bentonite clay, kaolin clay, calcium carbonate, calcium lactate, baking soda, activated coconut charcoal,  ground cinnamon, neem leaf powder, MSM, myrrh powder, Himalyan pink salt, xylitol, erythritol, essential oils of clove, peppermint, and cinnamon.  Do NOT use on dogs.   Contains enough for 120 uses.
Net Wt 1 oz/ 28 grans.