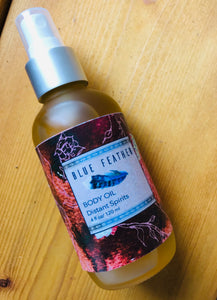 Enjoy this lightly scented sensuous oil for massage, as an after-shower moisturizer or as a bath oil.  Silicone oil helps lighten the blend and create a smooth glide.
Our new 'Soothing' blend is our interpretation of the Tiger Balm brand essential oil blend.
Contains:  Fractionated Coconut Oil, Olive Oil infused with Calendula, Apricot Kernel Oil, Isopropyl Myristate, Jojoba Oil, Fragrance and/or Essential Oils, Vitamin E.  4.0 fl oz/120 ml.
Now in a frosted glass bottle with a sugarcane label,