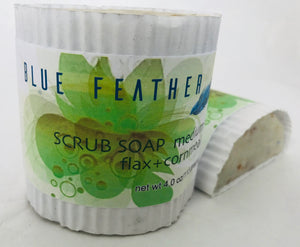 SCENT: MINTS, BASIL, LAVENDER & YLANG YLANG
essential oil  blend
Color: greenish with flax seeds
This MEDIUM SCRUB soap contains organic flax seeds, poppy seed and cornmeal to gently scrub away dirt. Gentle oils and butters clean and moisturize leaving a fresh garden scent.
ingredients: rice bran oil, distilled water infused with marshmallow, comfrey and chamomile, coconut oil, palm oil,  sodium hydroxide, castor oil, avocado oil, babassu oil, essential oils of spearmint, peppermint, basil, lavender and ylang ylang, sodium lactate, flax seeds, poppy seeds, green clay, cornmeal, spirulina and green oxide.
Approx. 4 oz./ 113 grams
*neutralized by saponification.