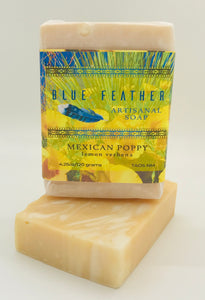 SCENT: LEMON VERBENA
fragrance oil 
Color: yellow with white swirls
Uplift your soul and stimulate your mind with this fresh new lemony soap. This is a coconut  oil free soap, with shea butter and bababssu oil for a little added moisturizing. We made this scent by special request to pair with our Lemon Verbena Honey Lotion. 
ingredients: rice bran oil, palm kernel oil, distilled water, palm oil, sodium hydroxide,* fragrance, castor oil, shea butter, babassu oil,  sodium lactate, sodium gluconate, brazilian yellow clay, yellow oxide, titanium white tussah silk. *Neutralized by saponification. 
ave wt 4.25 oz/120 grams.