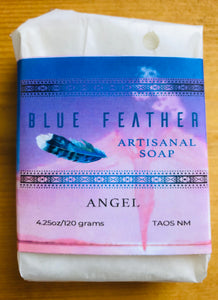 SCENT: A COPY OF THE TIERRY MUGLER SCENT, WITH NOTES OF APRICOT, CARAMEL, VANILLA, SANDALWOOD & CHOCOLATE
fragrance oil
Color: off white
We brought the Angel fragrance back by popular demand. Several customers called it "their personal scent," so they HAD to have it! We don't know how long we'll keep making it, since we have lot of different soaps… have you noticed?  Get it while its in stock!
Angel is purportedly the most popular fragrance of all time! it is exotic, but not too heavy. If you want to use it as your signature fragrance, try layering it with other Angel scented products, like our Aromatherapy Mist or our Healing Herbal Cream.
Angel Soap is lovingly hand made with rice bran oil, distilled water, coconut oil, palm oil,** sodium hydroxide,* castor oil, fragrance, shea butter, avocado oil, babassu oil,  sodium lactate, tussah silk. ** sustainable. * neutralized by saponification.
* Neutralized by saponification.  Approx 4.25 oz/ 120 grams